La Dulzura Creamery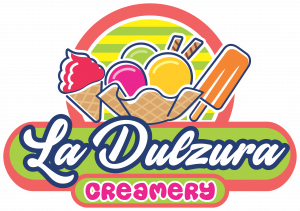 There's an exciting new restaurant in town!  La Dulzura Creamery is located in part of the old Blockbuster location at 603E Route 291 South in Liberty.  "La Dulzura" is Spanish and it means "sweetness" or "the sweet thing." And, boy, oh boy, do they ever have sweet things!
Their menu includes exotic fruit drinks like the Chamomango with mango chutney, tajin, lemon, mango juice, chamoy papaya and mango Mexican candy.  They have seven different Aguas Frescas or "Fresh Waters," including Jamaica and Horchata and Watermelon.  In Mexican tradition, their ice creams lean toward the fruit flavors, but you can still find chocolate and vanilla carrying their weight.  Fruit popsicles in many flavors are also available for only $2.45 each.
But it's not all sweet stuff! They have a hot menu of Hispanic favorites like a Torta Cubana sandwich with beef, sausage, ham, chorizo and eggs, covered in Asadero cheese, with lettuce, tomatoes, onions, avocado, mayo AND chips – for $8.99. They have a variety of delicious tacos, burritos, gorditas, but also a mix of hamburgers including their Hawaiian with Angus beef, pineapple, ham, American cheese, lettuce, tomatoes, onion, avocado and mayo on a bun – and with fries! ($8.95)  It's also the only place in Liberty to find one of our favorite street foods – Elotes.  Basically it's either corn on the cob or in a cup with butter, mayo, Cotija cheese, lemon, salt and chili powder. They have a number of ways you can order it and a variety of price points for different sizes.
CitySaver spoke with the owner who is thrilled about his new venture in Liberty and has already joined the Chamber of Commerce and wants to be a part of the community and get to know everyone.  We wondered why he would ever even consider opening a new restaurants DURING a pandemic! He said, "kkkkkkk kkadfadfad flajsdflkajdf."
Please support our new neighbor and his business, La Dulzura.  A money-saving coupon is available at the link HERE (but you have to have a CitySaver free account)- or go visit our coupon page for other ways to save around town. And please feel free to comment below and forward this article and coupon out to your social media contacts!  Visit their website at www.LaDulzuraCreamery.com .  Delivery is available through DoorDash.
from the CitySaver Editorial Staff

---